Stuff we like: Riviera Select 8′ Stoft Top Standup Paddleboard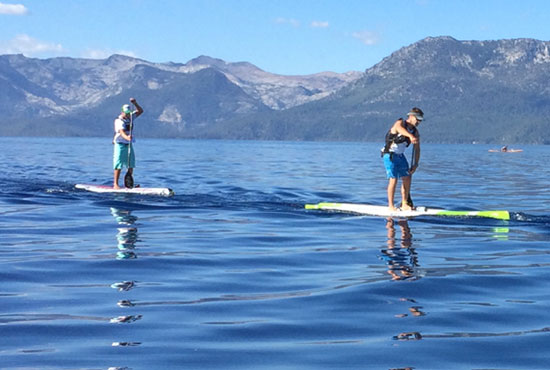 By now, you've probably heard about—or even tried—standup paddleboarding (SUP). If not, the basics are you stand on an oversized surfboard and stroke with a long canoe-like paddle.
You can do it on lakes, oceans and slow-moving rivers and there's even a new BSA Stand Up Paddleboarding Award (http://scouting.org/OutdoorProgram/Aquatics.aspx).
If you want to get your own SUP, consider the Riviera Select 8′ Soft Top ($699; rivierapaddlesurf.com). At 8 feet long and 4 inches thick, this board is stable and floaty enough for most kids (for bigger paddlers they also have a 10'6" and 11'6" verison). It's also very durable and covered with a soft EVA foam top, which means it won't hurt if you fall on the board—or if the board hits you!
There are other soft-top style boards on the market but this one is our favorite because it has a solid core which makes it stronger and it won't get waterlogged and heavy over time like other SUPs. For a paddle, check out the Riviera Seal R6.5 Aluminum Adjustable Paddle ($75; rivierapaddlesurf.com) a durable, lightweight paddle that can be adjusted to fit your height—which is handy when sharing the board with your friends.
---
Ask the Gear Guy
Not sure which gear to buy? Need tips for maintaining your equipment?
Click here to send in your questions for the Gear Guy
. Selected questions will be answered here and in the printed magazine.
---
Inspire Leadership, Foster Values: Donate to Scouting
When you give to Scouting, you are making it possible for young people to have extraordinary opportunities that will allow them to embrace their true potential and become the remarkable individuals they are destined to be.
Donate Today