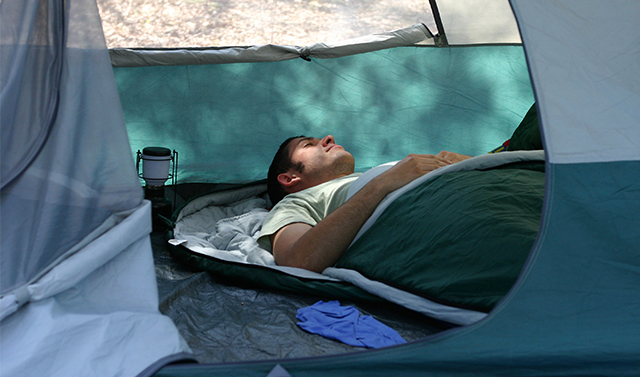 Q: My dad gave me an old Marmot sleeping bag, and it has two small holes in it and some down feathers are coming out. The sleeping bag works just fine, but how do I stop the feathers from coming out?
—Cold Coleman, Reno, Nev.
A: Thanks for the question, Cold. First off, good for you for reusing your dad's old sleeping bag. A good bag can last for decades if you take care of it.
As for your escaping feathers problem, I called my buddy George Farkas over at McNett, a company known for its gear-care and -maintenance products. Here's what he had to say: Seam Grip ($7; www.rei.com ) makes an excellent 'no-sew' patch on small holes and tears.
For pinholes just use a toothpick to apply a very small dab to cover the hole and about 2 mm beyond.
For larger holes, cut a small piece of fabric (such as some nylon from the lining of an old retired jacket). Next, shape the patch with scissors to be about 3 mm bigger than the hole in all directions. Then apply Seam Grip all along the outer edge of the patch (at least 3 mm in from the edges). Apply the patch to cover the hole and leave it laying flat overnight. Once it's good and dry, the patch will be permanent and should survive laundering when you wash the bag.
For the sewn seams, apply a very minimal amount of Seam Grip in a thin line along the stitching and that'll provide an easy and permanent fix.
---
Ask the Gear Guy
Not sure which gear to buy? Need tips for maintaining your equipment?
Click here to send in your questions for the Gear Guy
. Selected questions will be answered here and in the printed magazine.
---
Inspire Leadership, Foster Values: Donate to Scouting
When you give to Scouting, you are making it possible for young people to have extraordinary opportunities that will allow them to embrace their true potential and become the remarkable individuals they are destined to be.
Donate Today