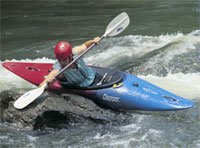 Q. I am looking to buy a kayak but there are so many possibilities. Which one should I pick? Help me!
— Kayakless Cameron, Sandown, N.H.
A. You're right Cameron, the number of kayaks on the market can be dizzying. Before picking a boat, it's important to consider where you'll be paddling.
If you plan to kayak mostly in lakes, slow moving rivers and mellow seas near the beach, then you'll want a open cockpit boat that's around 10 to 12 feet long, about 27 to 30 inches wide or so, stable and comfortable to paddle. A couple of good places to check are Old Town (oldtowncanoe.com) or Heritage Kayaks (heritagekayaks.com). A sit-on-top style kayak is great choice for fishing too.
If paddling whitewater rivers is your goal then you'll need a shorter, narrower, more responsive river runner that's designed to be rolled back up (a.k.a. the "Eskimo roll") when you flip over in the rapids. Jackson (jacksonkayak.com) carries a few stable, predictable kayaks—perfect for learning to run whitewater.
---
Ask the Gear Guy
Not sure which gear to buy? Need tips for maintaining your equipment?
Click here to send in your questions for the Gear Guy
. Selected questions will be answered here and in the printed magazine.
---
Inspire Leadership, Foster Values: Donate to Scouting
When you give to Scouting, you are making it possible for young people to have extraordinary opportunities that will allow them to embrace their true potential and become the remarkable individuals they are destined to be.
Donate Today