Stand-Up Paddleboarding Buying Guide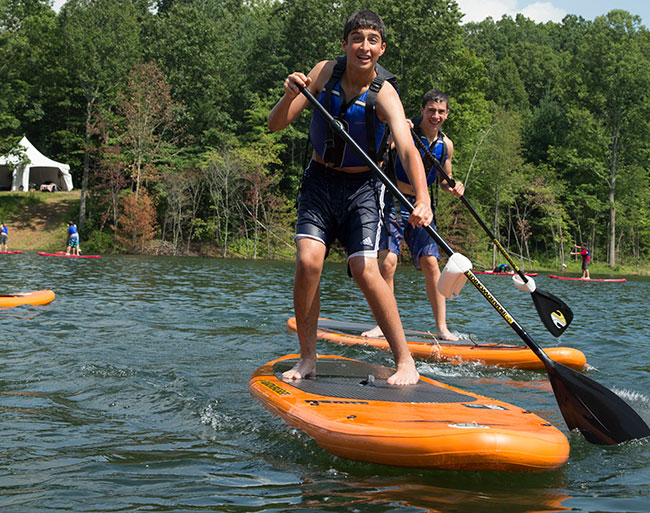 It looks like walking on water. Kinda feels like it too. Stand-up paddleboarding (SUP) is one of the most fun things you can do on the water, and it's one of the fastest-growing outdoor sports.
Though SUP's roots are in surfing, the majority of SUP boards are now used for flatwater touring and fitness paddling. You'll also find SUPs being used to race, run whitewater rivers, fish and even to reach out-of-the-way camp spots. Whatever way you wanna paddle, your Gear Guy brings you everything you need to know about SUP.
THE BOARD
There are two main shapes/types of SUPs: (1) all-arounders that look like oversized surfboards and (2) longer, more slender displacement hull-style boards with somewhat pointed noses that are best for long-distance touring, fitness and racing.
All SUPs come with a hollowed-out handle on the deck roughly in the center of the board for easier carrying.
A single fin or cluster of three or four fins on the bottom keeps your SUP moving in the right direction.
SUP SIZING
SUPs range from 14-foot touring boards to 8-foot surf-specific boards and everything in between. Longer and narrower boards are the fastest and best for long-distance touring. The wider the board, the more stable it is. Shorter boards are more maneuverable and often better for surfing or running rapids. There are also some youth-size boards that are lighter weight, shorter and narrower for easier paddling.
DIFFERENT TYPES OF SUP CONSTRUCTION
Soft-tops are made of a lightweight foam core wrapped in a soft rubber-like covering. These SUPs are lightweight and durable and a good choice for beginners.
Hard boards are generally made of EPS foam covered in fiberglass and hardened epoxy. They are lightweight, relatively durable and higher performance than a soft-top. Some hard boards are made of EPS foam wrapped in hard plastic, making them heavier but nearly indestructible.
Inflatable SUPs fit inside a bag for easy storage and travel and can be pumped up in about seven minutes. While it's not as rigid as a hard board, a good-quality inflatable SUP can be very stable.
THE PADDLE
A SUP paddle looks like a canoe paddle with a really long shaft. The main difference is the SUP paddle blade is bent forward slightly.
Always paddle with the bent angle of the paddle facing away from you. When paddling on the right side of the board, hold the shaft in your right hand and the handle grip in your left. Do the opposite when paddling on the left side of your board.
Paddles come in many different constructions, from super-lightweight and stiff carbon-fiber models for racing and touring to more affordable paddles with thermoplastic blades that are heavier but ultra-durable.
PADDLE SIZING
Your paddle should be about 4 to 6 inches taller than you. SUP surfers generally prefer shorter paddles. While many paddles have fixed length, an adjustable paddle is a good choice if you'll be sharing your SUP with friends and family.
NO LIFE JACKET, NO SUP!
Everyone who gets on a SUP needs a life jacket with a whistle attached. Safety Afloat guidelines apply to all SUP activities in Scouting.
THE LEASH
All SUPs have an attachment on the tail of the board for a leash. Wrap the leash around your ankle with the Velcro cuff and attach the other end to your SUP. This keeps your board within easy reach when you fall off.
Coiled leashes are best for most types of paddling because the tight coils keep the leash on the deck of your board rather than dragging behind in the water.
Straight leashes are best for SUP surfing. If you're whitewater SUPing, NEVER attach the leash to your ankle because it can be a drowning risk. Instead, attach the leash to your life jacket with a quick-release clip.
GET UP, STAND UP
It's best to stand in the middle of the board (near the carry handle) with your feet parallel and about hip-width apart. If you have gear strapped to the front of your board, shift your weight farther back toward the tail of the SUP.
The easiest way to get started is to first kneel on the board with the paddle placed horizontally across the deck in front of you. Apply even pressure to your hands as you slowly pull one foot, and then the other, under your body to stand up. Once standing, you can use your paddle to brace and balance.
If you're feeling wobbly, don't stare at your feet. Instead, keep your eyes fixed on a spot on the horizon.
Before you try it, be sure to find out about SUP from someone knowledgeable — and have fun!
Inspire Leadership, Foster Values: Donate to Scouting
When you give to Scouting, you are making it possible for young people to have extraordinary opportunities that will allow them to embrace their true potential and become the remarkable individuals they are destined to be.
Donate Today