How to Buy the Best Sleeping Bag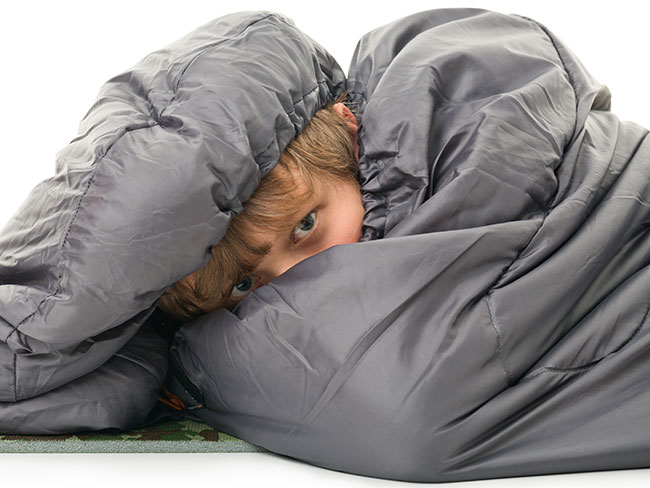 A sleeping bag can make the difference between blissful comfort and a verrry long, miserable night. It can even help you ward off life-threatening hypothermia if you get cold and wet.
Choosing the right sleeping bag can be tricky. Follow these tips on choosing the right sleeping bag for your next adventure and check out the Gear Guy's favorite models.
TEMPERATURE RATINGS
Sleeping bags have labels with ratings like -10 degrees or +30 degrees. These tell you the lowest temperature at which most people will be comfortable sleeping in that particular bag.
Do you get cold easily or are you a furnace? If you struggle to stay warm, you'll probably want a bag rated about 20 degrees lower than the coldest temperatures you plan to sleep in. If you sleep warmly, choose a bag rated to within 10 degrees of the coldest temperatures you'll encounter.
KNOW YOUR BUDGET
Sleeping bag prices can vary from $60 to $600. Price is affected by both the quality and amount of insulation, so the price usually goes up as the temperature rating goes down.
SYNTHETIC VS. DOWN INSULATION
There are two main types of insulation: down, which is natural, and synthetic, which is man-made.
Generally, goose down is warmer, lighter and easier to pack, but it's typically more expensive and requires extra care. The biggest downside to down is that it loses its ability to keep you warm if it becomes wet.
Synthetic insulation is typically less expensive, requires little care and retains its warmth if the bag gets wet. Modern synthetic insulations like PrimaLoft are nearly as lightweight and compact as down, and remain the best choice for extended trips in wet environments.
Modern bags blur the traditional lines between down and synthetic insulations. Many bags now use water-resistant down, which keeps you warm even when wet. Still, even saturated water-resistant down loses some of its ability to trap heat, and you might have trouble drying out any bag in prolonged wet weather.
WEIGHT MATTERS
Are you car camping, where weight matters less, or backpacking, where every ounce counts? How you pack will directly influence the type of bag you need.
Lighter, higher-quality insulation costs more, but you can trim weight and bulk simply by buying the right bag for the conditions.
MUMMY VS. RECTANGULAR SHAPE
Mummy bags taper from head to foot for thermal efficiency and to minimize weight and bulk, but some can feel claustrophobic. Rectangular bags are more spacious but are generally heavier and bulkier, and you can sometimes hit a cold spot. Try it on before buying.
QUALITY CONSTRUCTION
Less expensive — yet lightweight — bags have sewn-through baffles, which can create cold spots along seams. Higher-quality horizontal baffles are typically warmer. Other high-quality construction upgrades include a draft tube (along the zipper), a collar (inside the hood) and a no-snag zipper guard.
GEAR GUY'S ADVICE?
Get what you can afford. You can still get outside with an inexpensive bag — which is what's most important, right? If and when you have the dough for a nicer bag, your wilderness adventures will be a little more luxurious.
CARING FOR YOUR BAG
Properly cared for, a sleeping bag can last 10 to 20 years. Body oils can compromise insulation, so you should always sleep in clean base layers. Post-trip, hang the bag to dry for a day or two, and then place it in a big storage sack and keep in a dry place. If your bag gets really dirty or starts losing loft, follow manufacturer instructions for washing it.