Rabbids Invasion: The Interactive TV Show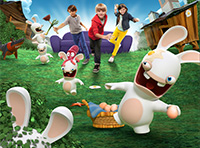 Those wild, raving Rabbids are back on TV and better than ever.
The new season of Rabbids Invasion: The Interactive TV Show packs some major changes — in a good way. Sure, you can watch the frantic antics of the wacky rabbits. But if you have an Xbox Kinect or PS4 Camera, you can join them in interactive games and storylines by logging in.
And with 78 seven-minute episodes, there's a lot to do. Rabbids Invasion provides more than 400 games and challenges. Here's a sampling of everything you van expect:
Chicken Dance
Rabbid Dance
Pump Up the Sea star
Tug a Pretzel
Spinning Top
Candy bar Jump
Shaking the Machine
Speed track
Jumping on the highway
Radio Shake
Run Rabbid!
Sugar Rush
Speed Drawing
Ventouzup
Park-athlon
My Sodaaaaaah
Loudly Cow!
Seagaaaaaaaalh

Radioaaaaaaah
Bwaaaaaah-meter
Throwctopus
Radio Catapult
Slang-a-Rab
Skate board Jump
Crumbs Cleaners
Catch the Stickers
Paaaaaahmphlets
Eggs Battle
Rabbids Launcher
Light Windows
Boarding Control
Doing Some Numbers
Rabbi-casso
Doggy Hunt
Money Flies
Flies Away
Flash Flies
Inspire Leadership, Foster Values: Donate to Scouting
When you give to Scouting, you are making it possible for young people to have extraordinary opportunities that will allow them to embrace their true potential and become the remarkable individuals they are destined to be.
Donate Today