Will my sleeping bag be warm enough?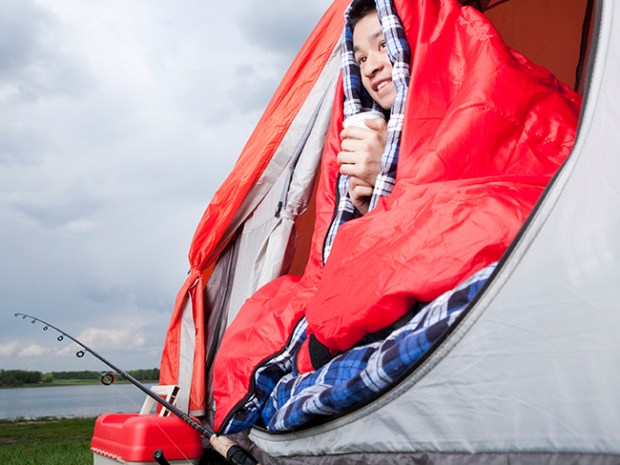 Q. I have a 45-degree mummy sleeping bag and a 15-degree liner to go with it, so it becomes a 30-degree bag. My dad says I'll be fine in the cold, but I'm not so sure. It gets pretty cold in the tri-state area. What do you think I should do?
— Worried Russell, Randolph, N.J.
A. I think you should give it a shot. Sleep a couple nights out in your bag and find out if it keeps you warm enough. If you're worried, pitch a tent in the backyard so you'll be close to home if you do get totally chilled.
That said, here are some ways to stay warm inside your sleeping bag: (1) be sure to use a sleeping pad because that will help insulate you from the cold ground, which will quickly suck heat from your body; (2) consider sleeping in warm clothes, like a set of long underwear and wool socks. Also, wear an insulated stocking cap since you lose lots of body heat from the top of your head.
Lastly, keep in mind, the temperature ratings on sleeping bags and liners are just general guidelines. It's up to you to determine at what temperature you can still sleep comfortably in your sleeping bag.
---
Ask the Gear Guy
Not sure which gear to buy? Need tips for maintaining your equipment?
Click here to send in your questions for the Gear Guy
. Selected questions will be answered here and in the printed magazine.
---