Troop 66 Celebrates Turkey Day With Activities, Games, Food and More Food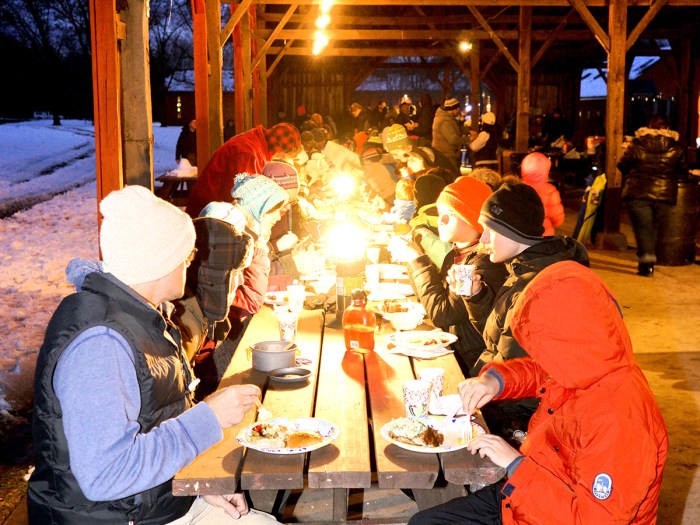 Thanksgiving is all about family and food — just not necessarily in that order.
Troop 66 from West Suffield, Connecticut, hosts a Thanksgiving campout each year that checks both of those boxes.
They invite at least one other Scouts BSA troop and Cub Scout pack, along with everyone's family members.
And they cook food. Lots and lots of food.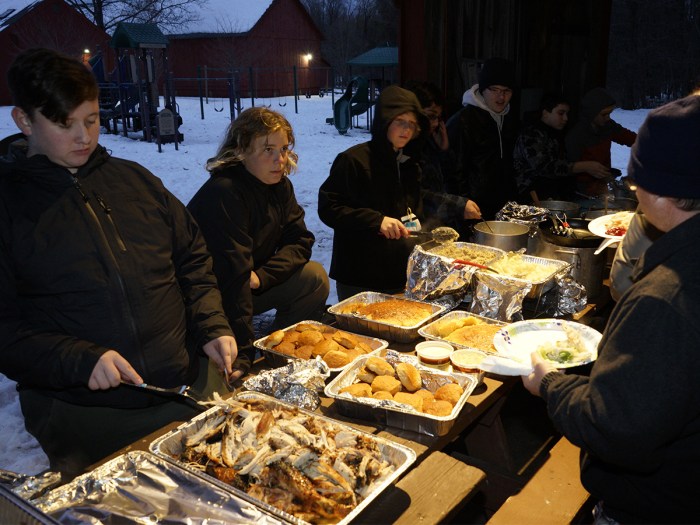 While the location and menu might change, the purpose is always the same: to get everyone together for food, fun and fellowship.
During the day, the Scouts BSA members might teach the Cub Scouts some basic Scouting skills. Maybe they'll go on a hike. Maybe they'll play some games.
Then, in the evening, they eat. And eat. And eat.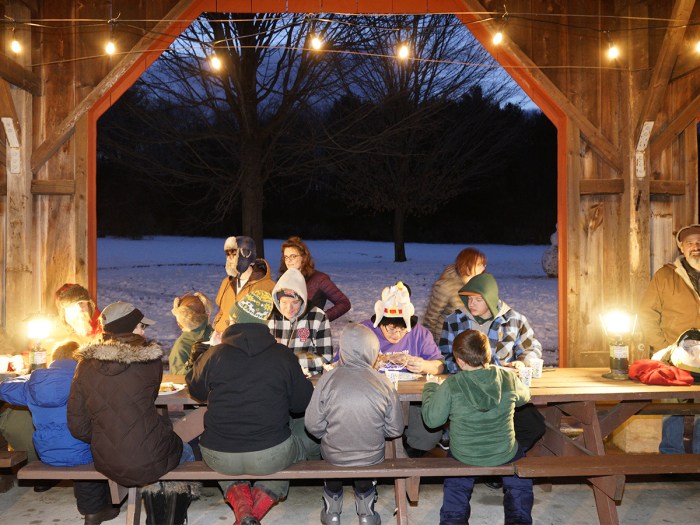 "It brings everybody together like a big Scouting family," 13-year-old Joe Dion says.
A DAY OF ACTION
Last fall, Troop 66 gathered at Northwest Park and Nature Preserve in Windsor, Conn., with Troop 203 from Windsor; Troop 82 from Agawam, Massachusetts; and Pack 266 from West Suffield.
The ground was covered with an early winter snow, so for a daytime activity, the Scouts teamed up to build an oversized snowman.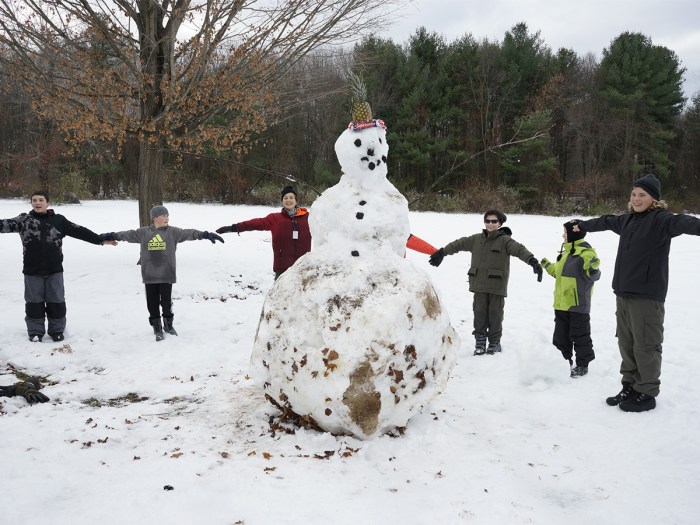 In the early afternoon, the cooking began. The group cooked several turkeys by hanging them from a tripod over hot coals. Other favorites included mashed potatoes, mac and cheese, and corn bread. The Scouts split into groups to prep their food.
"We do a lot of planning ahead, so we know exactly what to bring," says Quinn Bathgate, 15, from Troop 66. "So most of it isn't that hard."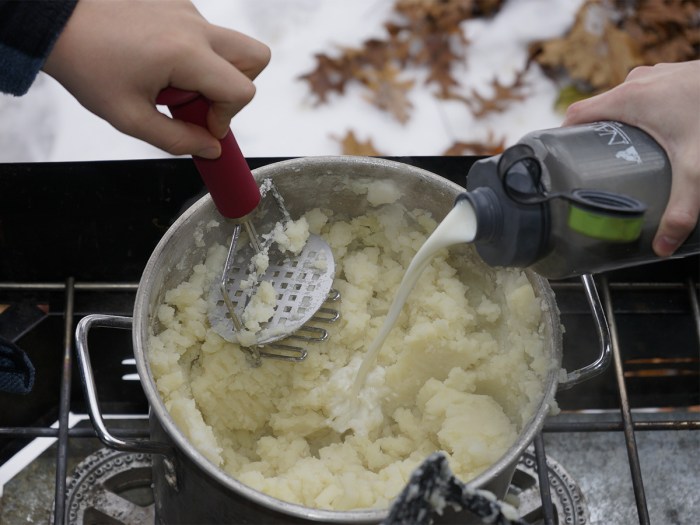 After hours of preparation, the entire group and their families gathered for a large evening meal.
"It's really nice," 17-year-old Troop 66 Eagle Scout Jon Riley says. "After all that hard work, you get to finally taste your efforts. You can sit down with family members and just chill and talk."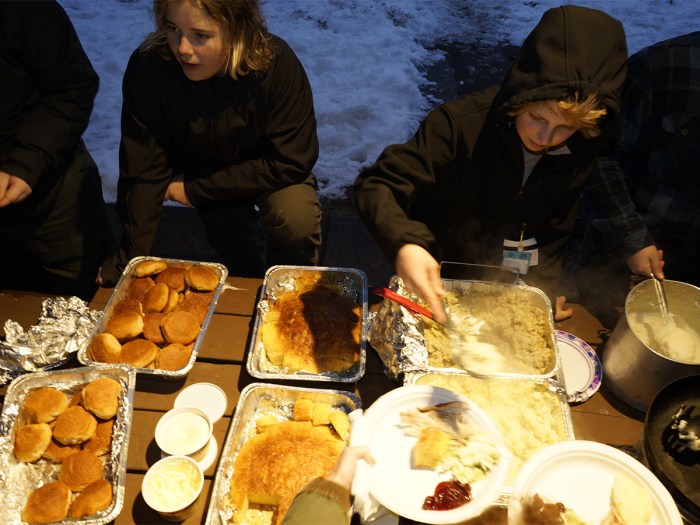 ---
DELICIOUS RECIPES FROM THE EVENT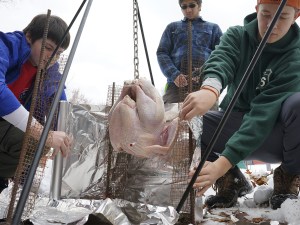 Troop 66 uses a tripod, a chain and lots of aluminum foil to roast turkeys at their annual Thanksgiving campout. Here's how they do it.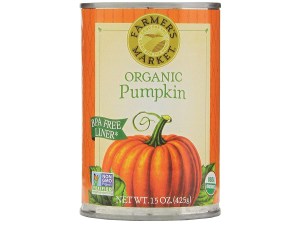 Try this easy recipe for baking Pumpkin Spice Cake in a Dutch oven.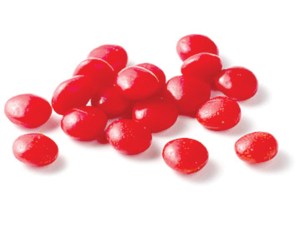 Use cinnamon candies and apple juice to make Troop 203's Fire Cracker Cider.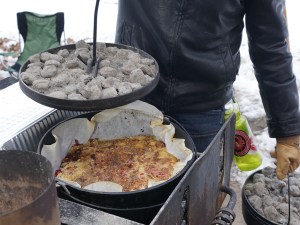 Here are some of the favorite camping recipes from Troop 66, West Suffield, Conn., and from Troop 303, Windsor, Conn.
---
Inspire Leadership, Foster Values: Donate to Scouting
When you give to Scouting, you are making it possible for young people to have extraordinary opportunities that will allow them to embrace their true potential and become the remarkable individuals they are destined to be.
Donate Today