Inside the October 2021 Issue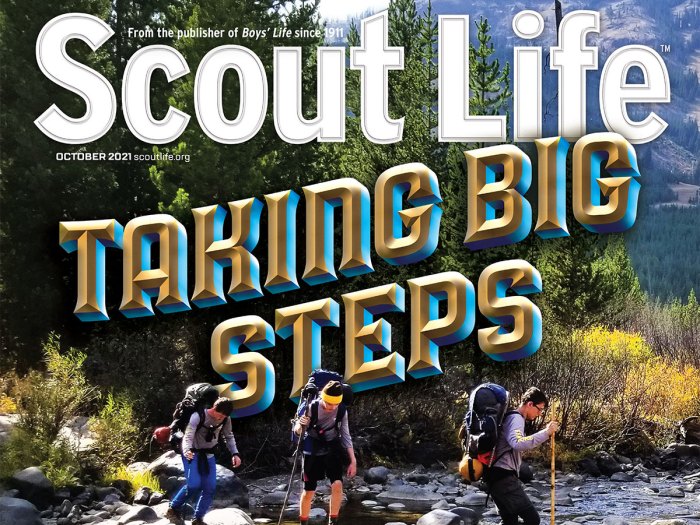 Here's what you'll find inside the October 2021 issue of Scout Life magazine. Remember, many articles are only available to subscribers and are not available online.
Please visit scoutlife.org/subscribe to subscribe to the print or digital editions of Scout Life magazine.
---
OCTOBER 2021 FEATURES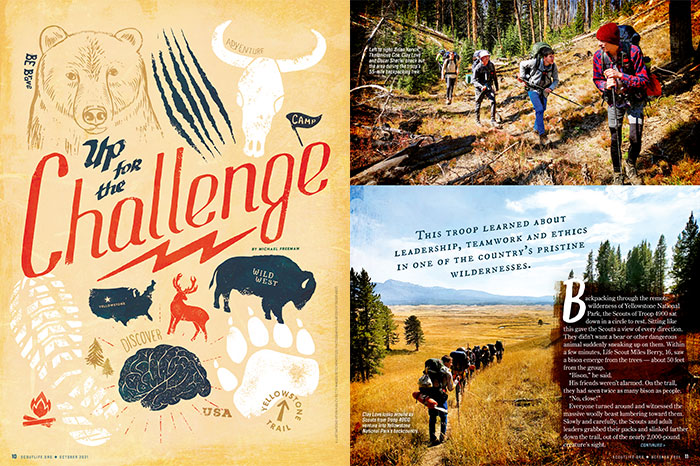 UP FOR THE CHALLENGE
This troop learned about leadership, teamwork and ethics in one of the country's pristine wildernesses.
• Troop Discovers More Than Just Natural Beauty in Yellowstone's Backcountry
---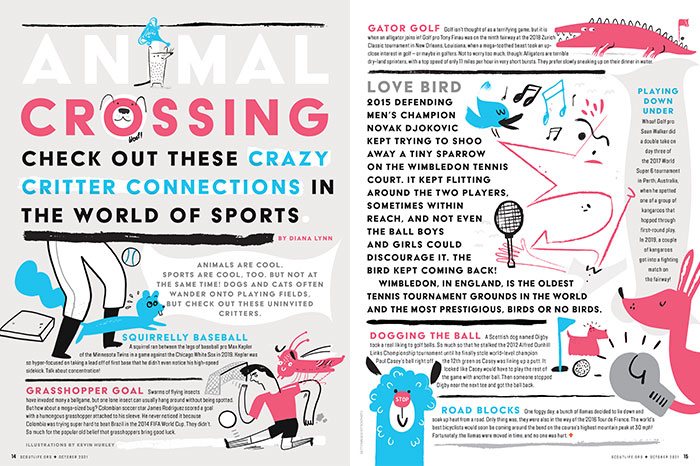 ANIMAL CROSSING
Check out these crazy critter connections in the world of sports.
• 7 Crazy Animal Encounters in the World of Sports
---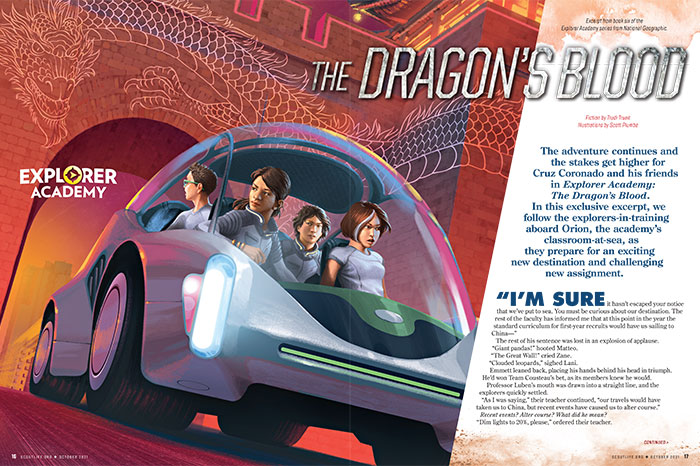 FICTION: EXPLORER: ACADEMY: THE DRAGON'S BLOOD
In this exclusive excerpt, we follow the explorers-in-training as they prepare for an exciting new destination and challenging new assignment.
---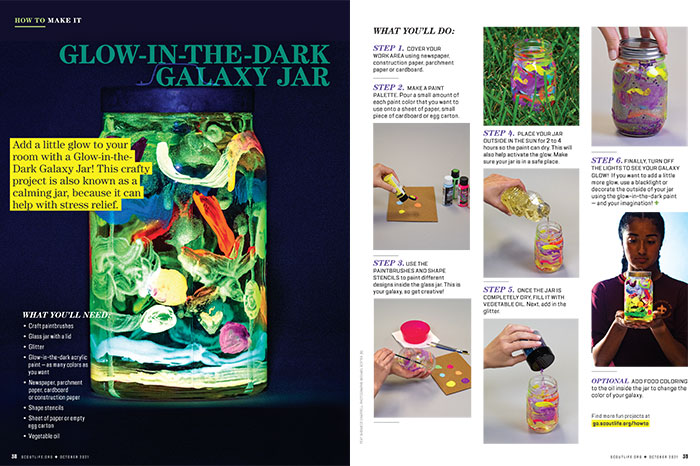 SL HOW TO MAKE IT: GLOW-IN-THE-DARK GALAXY JAR
Add a little glow to your room with a Glow-in-the-Dark Galaxy Jar! This crafty project is also known as a calming jar, because it can help with stress relief..
• How To Make a Glow-in-the-Dark Galaxy Jar
---
ONLY IN OUR SCOUTS BSA EDITION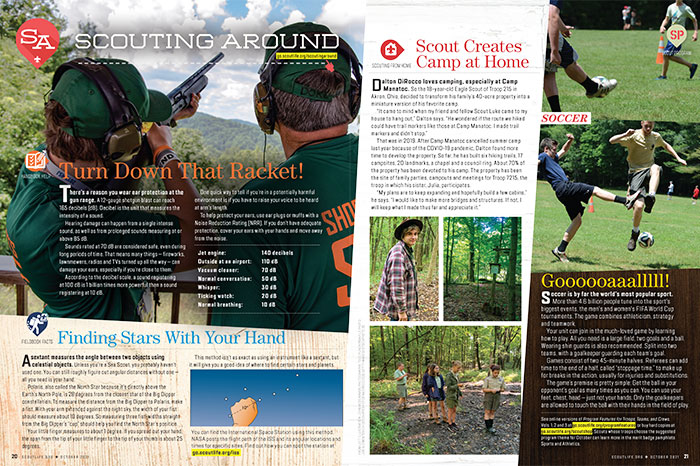 SCOUTING AROUND: GOOOOOAAALLLLL!
Soccer is by far the world's most popular sport. The game combines athleticism, strategy and teamwork.
• Visit the Scouting Around blog
---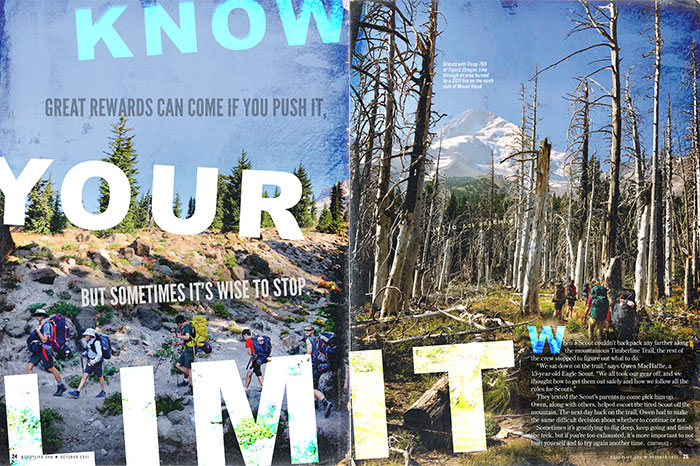 KNOW YOUR LIMIT
Great rewards can come if you push it, but sometimes it's wise to stop.
• Great Rewards Can Come By Pushing Your Limits, But Sometimes It's Wise To Stop
---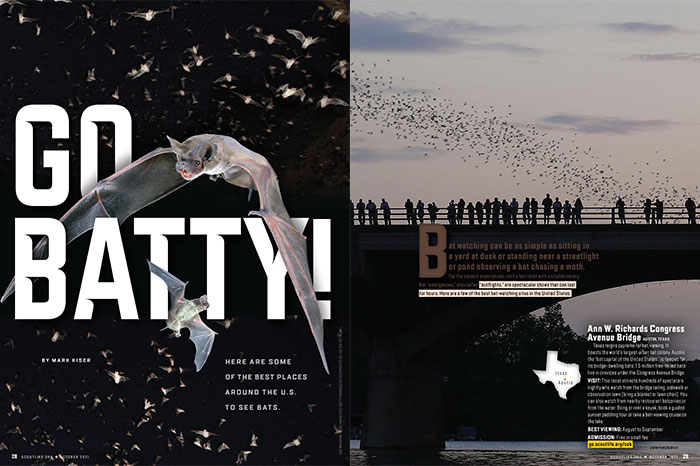 GO BATTY
Here are some of the best places around the U.S. to see bats.
• Here Are 10 of the Best Places Around the U.S. To See Bats
---
ONLY IN OUR CUB SCOUT EDITION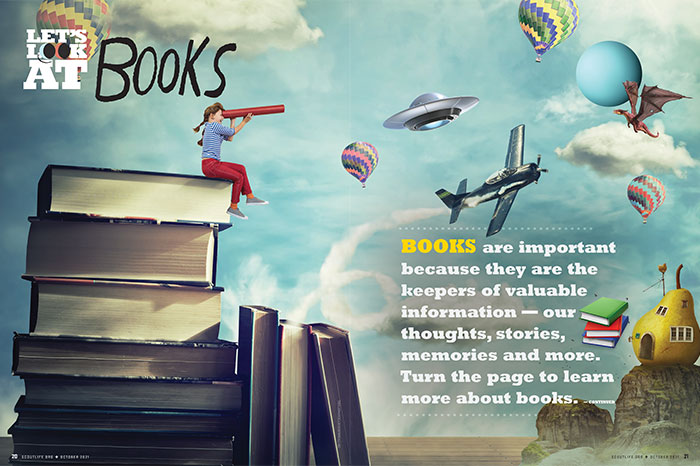 LET'S LOOK AT BOOKS
Read it! Color it! Get it all in this special Cub Scout section.
---
AND MORE!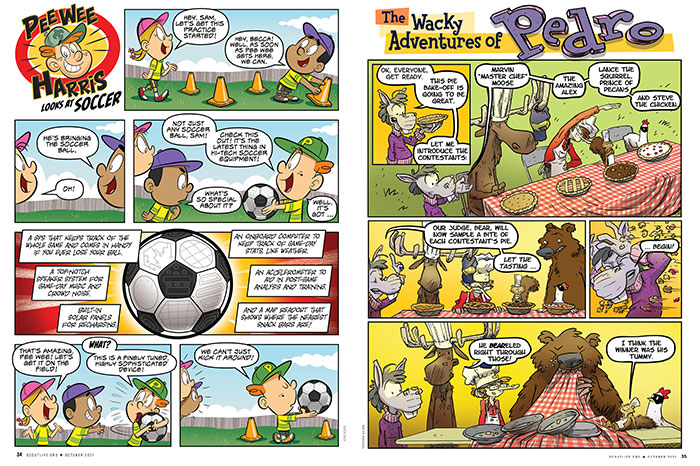 Look for the regular score of comics, jokes, games, Scouts in Action, Tradin' Post and more! Only in the October 2021 issue of Scout Life!
• The Wacky Adventures of Pedro
• Pee Wee Harris
• Scouts in Action
• More S.I.A.
Inspire Leadership, Foster Values: Donate to Scouting
When you give to Scouting, you are making it possible for young people to have extraordinary opportunities that will allow them to embrace their true potential and become the remarkable individuals they are destined to be.
Donate Today