Inside the December 2021 Issue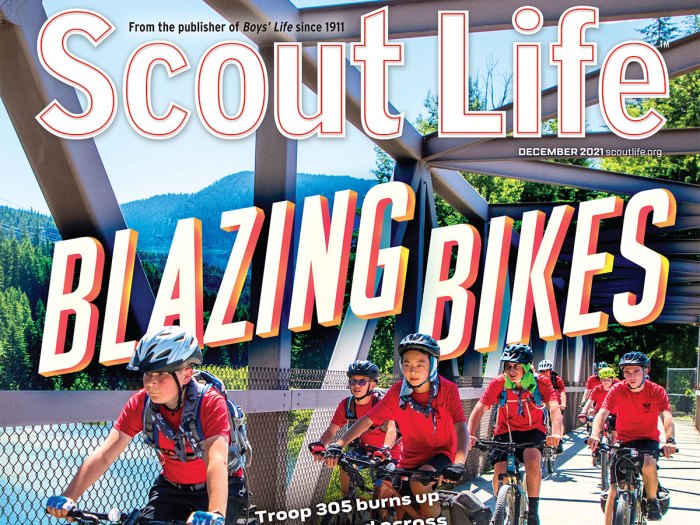 Here's what you'll find inside the December 2021 issue of Scout Life magazine. Remember, many articles are only available to subscribers and are not available online.
Please visit scoutlife.org/subscribe to subscribe to the print or digital editions of Scout Life magazine.
---
DECEMBER 2021 FEATURES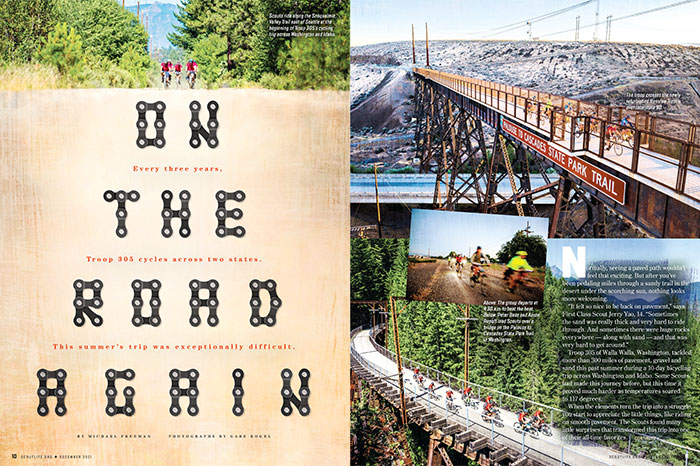 ON THE ROAD AGAIN
Every three years, Troop 305 cycles across two states. This summer's trip was exceptionally difficult.
• Troop 305 Burns Up the Road on 10-Day Bicycling Trip
---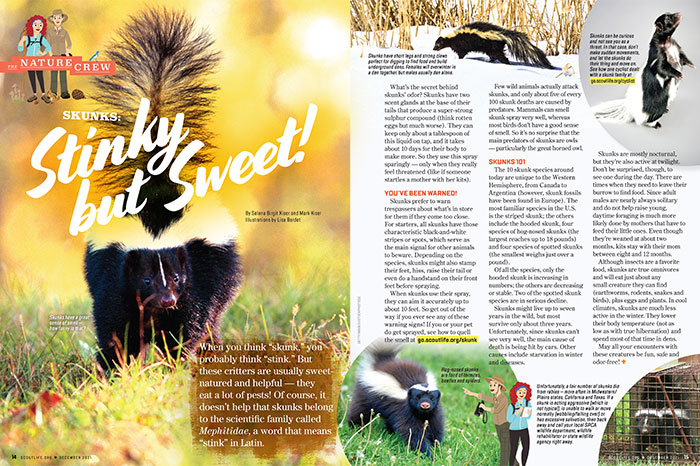 SKUNKS: STINKY BUT SWEET
When you think "skunk," you probably think "stink." But skunks are usually sweet-natured and even helpful.
• Skunks Stink But They're Also Fascinating
---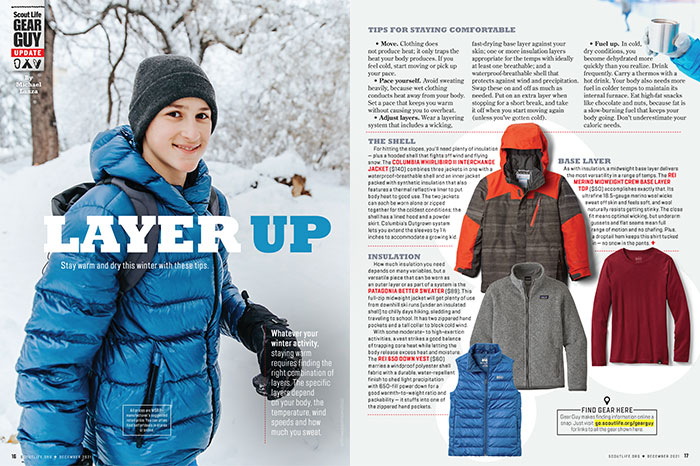 GEAR GUY UPDATE: LAYER UP
Stay warm and dry this winter with these tips.
• Stay Warm and Dry This Winter With These Gear Tips
---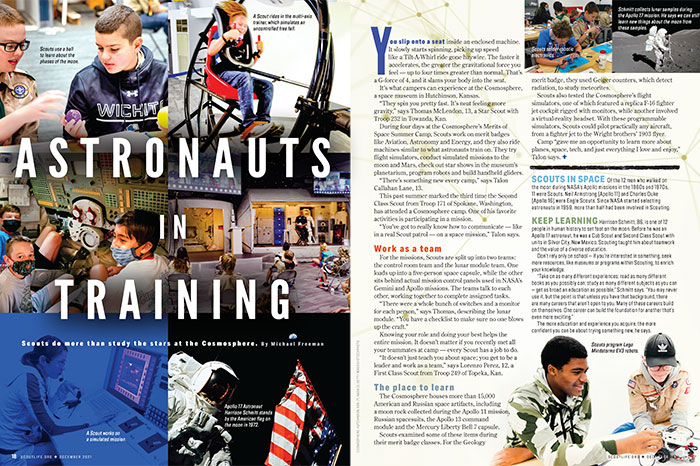 ASTRONAUTS IN TRAINING
Scouts do more than study the stars at the Cosmosphere.
• Scouts Train Like an Astronaut at Cosmosphere Camp
---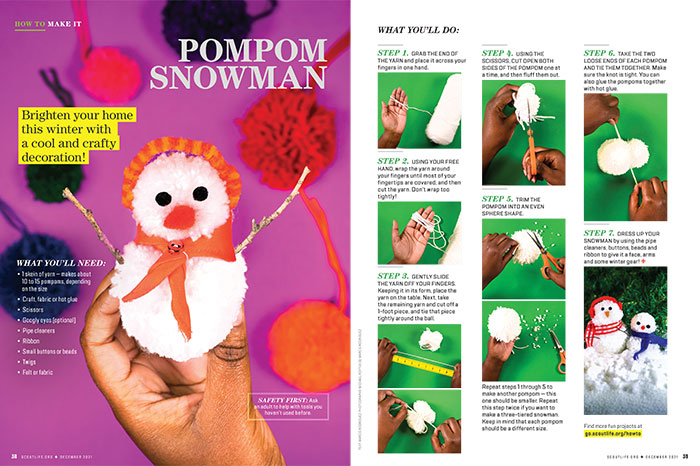 SL HOW TO MAKE IT: POMPOM SNOWMAN
Brighten your home this winter with this cool and crafty decoration!
• How to Use Yarn to Make a Pompom Snowman
---
ONLY IN OUR SCOUTS BSA EDITION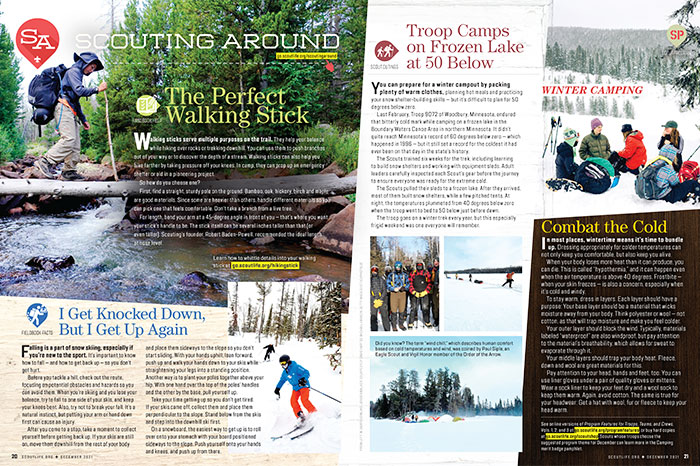 SCOUTING AROUND: COMBAT THE COLD
Dressing appropriately for colder temperatures can keep you not only comfortable, but also alive.
• Visit the Scouting Around blog
---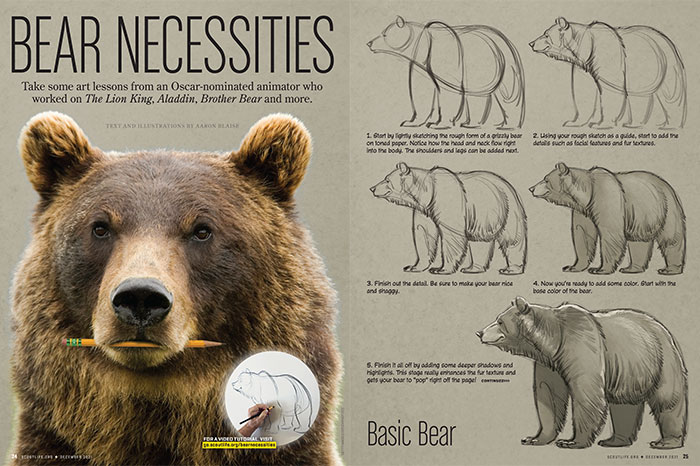 BEAR NECESSITIES
Take some art lessons from an Oscar-nominated animator who worked on The Lion King, Aladdin, Brother Bear and more.
• Learn How to Draw a Bear From a Pro
---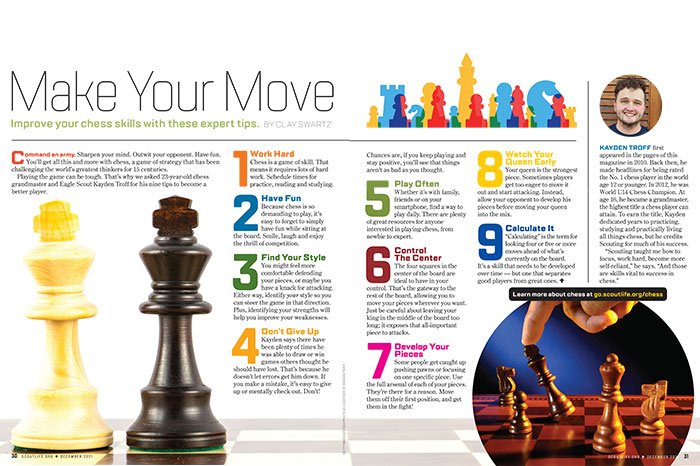 MAKE YOUR MOVE
Improve your chess skills with these expert tips.
• Improve Your Chess Skills With These 9 Expert Tips
---
ONLY IN OUR CUB SCOUT EDITION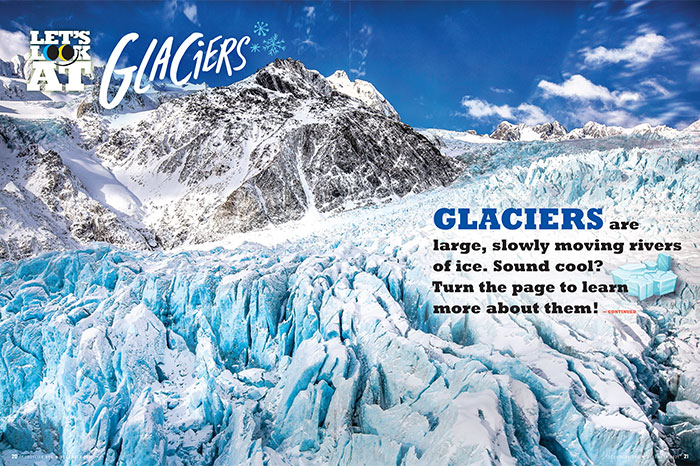 LET'S LOOK AT GLACIERS
Read it! Color it! Get it all in this special Cub Scout section.
---
AND MORE!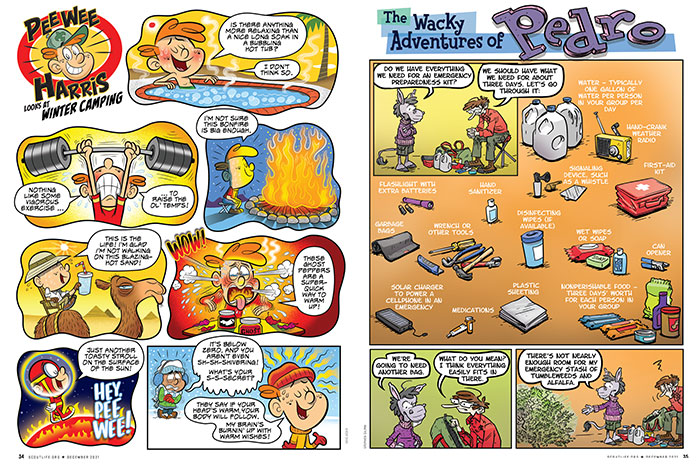 Look for the regular score of comics, jokes, games, Scouts in Action, Tradin' Post and more! Only in the December 2021 issue of Scout Life!
• The Wacky Adventures of Pedro
• Pee Wee Harris
• Scouts in Action
• More S.I.A.
Inspire Leadership, Foster Values: Donate to Scouting
When you give to Scouting, you are making it possible for young people to have extraordinary opportunities that will allow them to embrace their true potential and become the remarkable individuals they are destined to be.
Donate Today